High Speed Laser Printing
The Ricoh Pro 1107EX digital imaging system delivers fast performance, and outstanding quality. These reliable systems produce crisp black and white output at speeds of 110 pages per minute.
These features make them the optimal digital presses for meeting tight deadlines, and maximizing uptime. Ease of setup, combined with speed and longer up time makes using the black and white print option an affordable addition to your marketing and communications needs.
Full Color Digital Printing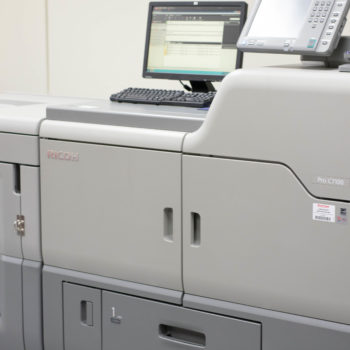 At ABS we offer a full array of digital printing processes. Brochures, postcards, full color or black and white. With the Ricoh 7100 series 5th color we dominate the market with speed, quality and results. At around 10,000 letter-size impressions per hour, and with no additional time needed for make-ready or drying, the Ricoh 7100 series 5th color delivers the rapid turnaround that businesses are demanding.
Envelope Printing:
Talk to us about your envelope printing needs
Do more with an Envelope with ink jet technology
Our new Envelope Press is a fast, low-cost solution for printing and addressing envelopes. We can print your company logo, Event promotions, or both. We can merge your envelope graphics and address data in a single pass.
Using Our Envelope Printing You Get:
Print up to 10.5" x 17" and 3/8" thick

Edge to edge full bleed capability

1/3 the cost of toner-based systems

3x the speed of toner-based systems

No Creasing or Embossing

Also prints using Standard Window Envelopes
Other Notable Features:
Flexible – Feeds from 3″ x 4-1/8″ to 10.5″ x 17″

We can print standard #9s, #10s, remits, peel/stick, catalog, coin, and more!
Adjustable height control up to 3/8″ to print bubble packs, padded, corrugated, etc.
Call us today. 209-545-6090